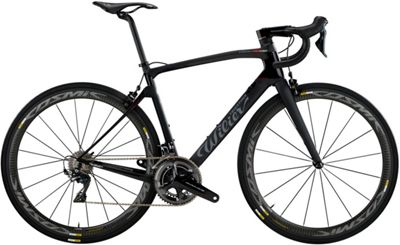 | | |
| --- | --- |
| Was | £7,300.00 |
| Now | £4,799.99 (34% off) |
Wilier Cento10NDR Dura Ace Road Bike. A racing frame that delivers the perfect balance between performance and comfort. The Wilier Cento10NDR Dura Ace Road Bike will let you spend long hours in the saddle, thanks to its specially designed state-of-the-art Actiflex system that will absorb rear vibrations generated by lumps and bumps Versatile Carbon Performance. The Wilier Cento10NDR Dura Ace Road Bike embraces the evolving road bike market. Catering for those who want a comfortable geometry with high-end performance, this lightweight carbon racing bike comes equipped with the pioneering Dual Brake Technology that lets you choose between disc brakes and direct-mount calipers. All of this technology is used in tandem with the flawless Shimano Dura Ace R9100 drivetrain, including direct-mount brakes, an aerodynamic Mavic Cosmic Pro Carbon Exalith wheelset and quality FSA and Selle Italia finishing kit Features: Frame: Carbon Monocoque Fibre 60TON + SEI Film Fork: Carbon Monocoque Fibre 60TON + SEI Film Chainset: Shimano Dura Ace 9100, 11-speed, 50/34T BB Shell: Shimano PressFit Brake/Shift Levers: Shimano Dura Ace 9100 Front Derailleur: Shimano Dura Ace 9100, 11-speed Rear Derailleur: Shimano Dura Ace 9100, 11-speed Cassette: Shimano Dura Ace 9100, 11-speed, 11-30T Chain: Shimano Dura Ace 9100, 11-speed Wheelset: Mavic Cosmic Pro Carbon Exalith Tyres: Mavic Yksion Pro Brakes: Shimano Dura Ace 9100 Direct mount Handlebar: Wilier Triestina BARRA H-Bar (245g ± 5%, 420mm, painted)Stem: Wilier Triestina Stemma (130g ± 5%, 110mm) Headset: FSA custom bearings Saddle: Selle Italia Novus Seatpost: Ritchey Pro carbon 27 2x350mmWeight: 7.4kg ± 5%Technologies: Carbon 60TON: To build a great monocoque carbon frame, Wilier looked for the perfect balance of stiffness, comfort and responsiveness at the lightest possible weight. Carbon fibre is an ideal material for bicycle frames because of its qualities of elasticity, capacity to withstand stresses, and its strength-to-weight ratio. The higher the modulus, the stiffer the composite. On the other end of the spectrum, the lower the modulus, the more elastic it will be. In the construction of this bike they implemented MR60H for stiffness in the critical stress areas where lateral stiffness equates to greater efficiency. Then used T800H and T700SC, with more elastic characteristics, to ensure comfort and sure-footed handling. Each was used as minimally as possible once our demanding strength and durability standards were met, ensuring the lightest weight frame possible. SEI Film: The injection of a proprietary viscoelastic film between layers of carbon increases vibration absorption and impact resistance, therefore making the frame safer and more comfortable. This new material has already been widely tested in the aeronautical and automotive industries with excellent results. It is now being applied in the construction of bicycles for the first time. Actiflex: The heart of the Cento10NDR frame, providing an all-new connection between the seatpost and seatstays. Using a carefully designed aluminium link and technopolymer dissipater allows Wilier to give the rear wheel a few millimetres of travel. The torsional stiffness of the aluminium link remains comparable to traditional monocoque carbon seatstays, despite the various connections involved. This stiffness gives the frame racing performance but at the same time allows the rear wheel to move up and down over bumps caused by imperfections in the road surface. Connected to the link there is a dissipater that stabilises the kinematic movement of the rear triangle. This special technopolymer has amazing mechanical properties, high atmospheric resistance and can function in temperatures from -40°C to +150°C. Total Integration: The sophisticated design of the steerer tube combined with the special form of the headtube allows us to thread up to three cables inside the frame. The three cables enter the steerer tube through the Alabarda or Stemma & Barra, routing the gear and brake cables from the levers at exactly the right angle in the steering tube. So, if you™re using electronic gears and disc braking, the bike will not have any exposed cables, giving the Cento10NDR a beautifully clean look. Aerodynamic: Cento10NDR is a race-ready frame derived from the Cento10AIR, our high-end light, aerodynamic bike. As in the Cento10AIR, Wilier™s new creation has been developed according to Naca-Low-Speed rules " aeronautical algorithms that allow us to design the frame tubes with the highest possible aerodynamic efficiency. Alongside the NACA algorithms, Wilier uses another important concept in aerodynamics: the Kamm theory. Indeed, all profiles are designed with a K-tail, reducing weight and increasing stiffness without negatively affecting the aerodynamic efficiency of the tube itself. Dual Brake Technology: Cento10NDR is the first road bike whose frame and fork can be fitted with two different types of brakes: disc brakes with thru-axles and 160mm rotors or traditional direct-mount caliper brakes with QR skewers. This solution expands the available configurations of the Cento10NDR, meaning the frame is always ready for an upgraded braking system. The fork and rear triangle have been designed to accommodate a wide range of tyres: up to 28mm with the direct-mount setup or up to 30mm if using disc brakes. Balanced Design: Balanced design means the ride feels the same on all Cento10NDR frame sizes. The tube sections in the various sizes are different, to make sure that stiffness, comfort and ride quality are the same on each frame size produced. Geometry: Frame geometry is key when it comes to endurance bikes. To offer Cento10NDR riders the maximum level of racing comfort, the proportions between the frame tubes needed to be rethought. The final result is a position that is slightly shorter and taller than in traditional racing geometries, thanks to a shorter reach and a greater stack. This reach and stack combination gives a more comfortable position without using any spacers between the stem and the frame. How often do we see cyclists with pure racing bikes and several centimetres of spacers on the steerer tube? Now with the Cento10NDR the overall look of the bike will be harmonious, proportionate, balanced and at the same time race-ready Easy Assembly. When you order a bike, one of our trained mechanics will carefully prepare and pack your bike for shipping. Upon delivery, the assembly is simple and all necessary tools are conveniently included in the box Depending on the delivery service and destination, bikes will either be delivered in a large or a small box. Below is a guide as to how your bike will arrive:All bikes for delivery within the UK and Republic of Ireland will be delivered in a large box, except for kids™ bikes and BMX bikes, which are always delivered in manufacturer's boxes. All bikes for delivery within the EU on a standard service will be delivered in a large box. If an express delivery option is chosen, your bike will be packed into a small box. Again, the exception is kids™ bikes and BMX bikes, which are always delivered in manufacturer's boxes. All bikes for worldwide delivery outside the EU will be delivered in small boxes This video demonstrates assembly from a SMALL BOX This video demonstrates assembly from a LARGE BOX Buy Wilier Bikes from Chain Reaction Cycles, the World's Largest Online Bike Store.
Road Bikes: Tear up the tarmac and munch those miles with a road bike from Action Sports Club. Whether you are racing, getting fit, or getting yourself to work at speed, there's nothing like the feeling of the breeze as the miles vanish under those slim tyres. With ready-to-go rides for men, women and kids, we have your new bike to tackle time trials, sportives, your Sunday afternoon lap, or the Monday morning traffic. Race bikes, single speeds, hybrid bikes and fixies can be found right here.
Home
|
Contact Us
|
Become a Partner
|
Advertise
|
General T&Cs
|
Membership T&Cs
|
Privacy Policy
| Copyright © 1997-2020 Action Sports Club Limited.
Site by
// 4.638.3