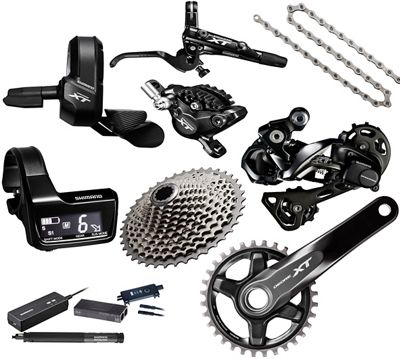 | | |
| --- | --- |
| Was | £1,599.99 |
| Now | £1,019.99 (36% off) |
. The Shimano XT M8050 1x11 Di2 Groupset is a combination of the exceptional XT M8000 mechanical components and the elegant, precise and reliable shifting performance, and adjustability of the Shimano Di2 electronic drivetrain. This drivetrain upgrade builds on the foundation of the iconic Shimano XT drivetrain performance and efficiency, and steps it forward into the modern world of mountain bike performance, where it sits very close to the pinnacle of drivetrain mastery Shimano XT M8000 Single 11 Speed Chainset. New 3D composite chainring's teeth composition is optimized for each chainwheel loadout with steel driving gear teeth and aluminium support gears. Improved driving rigidity. Loose ratio gear combination for minimum shifting gap and maintaining rhythm. Enhanced chain retention. Better sealing and better rotation Cassette Compatibility: 11 Speed4-Arm Chainrings: YesBolt Circle Diameter: P.C D. 96mmCrank Arms: Hollowtech II TechnologyBottom Bracket: BB-MT800/BB-MT800-PABB Shell Width: 68, 73mmChainring: Included, 4-ArmShimano XT Di2 M8050 11 Speed Rear Mech. The XT Di2 M8050 11 Speed Rear Mech blends powerful performance with precise shifting that remains crisp and consistent over time. The low-profile geometry and chain stabiliser ensure drivetrain security while the electronic wire transmission maintains consistent performance in all weather and trail conditions Shifting motor responds instantly to rider inputE-Tube electric wire transmission guarantees consistent performance in all conditionsAccurate chain position in every gearProgrammable, multi-shift and Shimano Synchronised Shift functionsLow-profile design keeps derailleur safely away from trail obstaclesShimano Shadow RD+ chain stabilizer with easy adjustmentCompatible with CS-M8000 11-46t cassette (1X11) and 11-40/11-42 (2x11)Shimano XT Di2 M8050 11 Speed Shifter. With its advanced ergonomics and shift logic, the Shimano XT Di2 M8050 11 Speed Shifters deliver seamless control and instant response. Free from mechanical limitations, its rotary switch design follows the rider™s natural hand movement and features customisable lever ergonomics. The short stroke levers provide light action with a vivid indexed feel to improve shift accuracy even in the roughest trail conditions, while the versatility of Di2™s programmable shift logic allows the rider to custom tune the system to their riding style Ergonomic rotary shift lever design matches natural hand movementShort stroke, perfect click levers provide faster, more accurate shiftingProgrammable, multi-shift and Shimano Synchronised Shift functionsDual-directional wire exit cap for versatile routing optionsWeight: 90g (each)Shimano XT Di2 MT800 System Display. Mounted to the handlebar, the Shimano XT Di2 MT800 System Display is the central rider interface of the XT Di2 system. From the System Information Display, riders can monitor important information such as battery level and toggle performance functions, as well as charge the system Identify system status of battery level, gear position, shift mode and FOX iRD suspension position; all at a glanceProvide audible shift notification chimesToggle between three Shimano Synchronised Shift modes available (S1/S2/Manual)Digitally adjust front and rear derailleurs and provide numerical adjustment indicatorWireless communication (ANT private/Bluetooth low energy) allows for easy to set up, customisation and data utilisation in the field with a smartphone, tablet and other mobile devicesBattery charging port3 E-Tube portsShimano XT M8000 11 Speed 11-40t Cassette. The Shimano XT M8000 11 Speed Cassette features a computer designed tooth configuration with contoured shift gates, resulting in a crisp smooth shift even under load High-performance 11 Speed Dyna-SysII cassetteClose ratio gearing allows more efficient use of energy through finer cadence controlLargest sprockets are mounted on lightweight alloy carriers to reduce weight and increase rigiditySprockets are cut away and drilled to further reduce weight without reducing rigidityLight and durable 40/42T sprocketsChrome-plated finish offers hard wearing resistance to corrosionAlloy cassette lock ringFor 11 Speed HG-X11 MTB chainsShimano XT M8000 Hydraulic Disc Brake. Shimano's XT M8000 Disc Brake is powerful and fully-bled to deliver superb stopping prowess in all conditions. The fully-bled lever and caliper come without adapters or rotors, which gives you the freedom to customise your bike for the ideal riding experience Brake Lever: 2 Finger, Forged AlloyReach Adjuster: YesServo Wave Action Power Adjuster: YesBrake Hose Type: SM-BH90-SBMCalliper Mount Type: Hydraulic Disc BrakePiston Type: TwinMount: Hinged clamp for quick installation, I-spec-II compatibleHose Length: Front: 1000mm; Rear: 1700mmRecommendation: Use with Ice Tech rotors for optimum braking performance (not supplied)Groupset Features: Chainset: Shimano XT FCM-M8000 Cassette: Shimano XT CS-M8000 Chain: Shimano SLX CN-HG601, 11 Speed Shifters: Shimano XT Di2 SW-M8050-R Switch Brakes: Shimano XT BR-M8000 Display: Shimano XT Di2 SC-MT800 On-Trail Drivetrain Information Rear Derailleur: Shimano XT Di2 RD-M8050-GS Junction Box: Shimano JC41 Junction Box Battery: Shimano BT-DN110 Internal Mount Battery Battery Charger: Shimano SM-BCR2 Di2 Charger Cables: 1 x 300mm, 1 x 650mm, 1 x 1000mm, 1 x 1200mmBuy Shimano Components from Chain Reaction Cycles, the World's Largest Online Bike Store.
All product information is direct from Chain Reaction Cycles. Merchant's category is Components > Groupsets.
MTB Components: Whether you are repairing, upgrading or building a bike from scratch, we have all the components you need for your Mountain Bike. Upgrade you drivetrain, grab new handlebars, add fresh pedals and handlebar grips to keep you cemented to that ride, or choose a comfy or lightweight saddle to match your riding style. And don't forget those brakes to give you the stopping power you need. So no matter which part of your mountain bike you are upgrading, from a new suspension set-up to the smallest bolt, Action Sports Club has you covered.
Home
|
Contact Us
|
Become a Partner
|
Advertise
|
General T&Cs
|
Membership T&Cs
|
Privacy Policy
| Copyright © 1997-2019 Action Sports Club Limited.
Site by
// 4.638.3