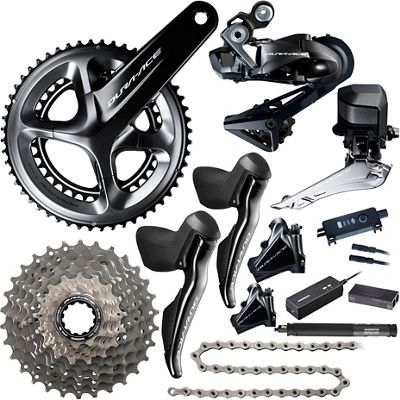 | | |
| --- | --- |
| Was | £3,489.99 |
| Now | £2,112.99 (39% off) |
. The Shimano Dura-Ace R9170 Di2 Groupset provides the pinnacle of drivetrain performance. Designed and engineered to provide the most exceptional power transfer efficiency for World Tour riders, to help them achieve the ultimate victory. Shimano has cut no corners with this Di2 groupset, which is virtually unmatched in terms of efficiency, technology and podium-proven performance. Shimano Dura-Ace Hydraulic Disc Brake Performance. This groupset is also equipped with among the most advanced hydraulic disc brakes in the industry. For many years Shimano has been pushing the development of disc brake technology for mountain bikes, now this exceptional brake feel, modulation and superior braking power is available on road bikes Maintenance-Free Drivetrain Performance. The power and precision of Di2 is unmatched. It enables beautifully smooth shifting both front and rear. The lack of maintenance and adjustment is impressive: once you™ve customised your Di2 to shift to your preferences, it will continue to do so endlessly Synchro Shift Electronic Gear Shifting. For the first time in a Dura-Ace groupset, Shimano™s innovative Synchro Shift is now available as a programmable Di2 option; Synchro Shift creates an intuitive experience with synchronised front and rear shifting, which can be custom programmed. With 'full' and 'semi' Synchro Shift available, this intuitive new mode automatically reacts when you shift from one chainring to another. Remove the guess work as your rear derailleur shifts automatically to minimise the gear step so you can keep riding with a smooth cadence and rhythm. Reliable Gear Shifting Precision. The Di2 E-Tube system provides unmatched shift performance, reliability and rider customisation. Along with enhanced Di2 functionality, the front and rear Di2 derailleurs are connected via Shimano™s small EW-WU111 wireless unit allowing for an ANT Private connection between Dura-Ace R9100 and third party devices. These components can be connected to Shimano´s E-Tube software, which supports the programmable aspects of the Di2 electronic gear shifting system. Use the Bluetooth technology for seamless access on smartphones and tablets. Shimano Dura Ace 11 Speed R9170 Di2 Drop Bar Levers: Drop bar STI with shift buttons Ergonomic design with greater reach More controllable and confidence inspiring in race conditions Carbon composite plastic material hood Customise the shifts to suit your riding style More defined click feeling and ergonomic shift lever position Updated internal shifting unit Optimally balanced hydraulic brake system for racing Powerful and controllable braking system Multi-shift function Tuneable Reach and Free-Stroke adjustment Weight: 180g (per lever)Shimano Dura Ace R9170 Hydraulic Disc Brake Calipers: Sleek, Low-profile design Optimally balanced hydraulic brake system for racing Simple set up and maintenance Easy and clean one-way bleeding process ICE Technologies Freeza for advanced heat dissipation Wide pad clearance and chamfer of brake pads Improved braking efficiency and power Balance weight, stiffness and stopping power Weight: 130g Shimano Dura Ace R9150 2x11 Speed Di2 Front Derailleur: Designed to work with the wider gear pitch spacing Shimano chainsets without sacrificing shifting performance on bikes with 135 / 142 mm O.L D. Di2 Optimised Precise and accurate shifting Quick and smooth front shifting under high pedalling torque Fast and Smooth engagement Auto-Trim that centres the front derailleur as you shift across the rear cassette, avoiding chain rub Syncronised Shift Technology to communicate with Rear Derailleur to optimise performance Low-profile design 2x11 Speed Weight: 104g Shimano Dura Ace R9150SS 11 Speed Di2 Rear Derailleur: Derailleur contains a saver (fuse) function Low-profile design Di2 Optimised Shadow RD Technology Syncronised Shift Technology to communicate with Front Derailleur to optimise performance High tolerance cold forged aluminium link plates and body construction Four self-lubricating micro-machined fluorine-coated link pivot bushings 11 Speed Compatible Weight: 104g Shimano Dura Ace R9100 2x11 Speed Chainset: New 4-arm design for stiff, lightweight performance Weight reduction without any sacrifice to structural integrity or performance Hollowtech II construction Hollowglide chainrings 11 Speed Compatible Bolt Circle Diameter (B.C D): 110mm Compatibility: Frames with O.L D. 135 / 142 mm and 410mm chainstay length Shimano Dura Ace CS-9100 Cassette: For use with 11 Speed HG-EV chains Advanced, optimised shifting performance Shimano Dura Ace 11 Speed HG-901 Chain: Sil-Tec surface treatment technology (PTFE plating) Zinc-Alloy plated outer links 5.62mm chain widthShimano Di2 E-tube Electric Wires: 300mm x 1 350mm x 2 600mm x 1 700mm x 1 1000mm x 1Electronics: SM-EW90-A E-tube Di2 Junction Box-A, 3 port and the M-JC41 E-tube, Di2 bottom bracket Junction for internal wire routing Di2 internal mount battery Di2 internal battery charger direct to SM-EW90 Junction (one hour charge time)Buy Shimano Components from Chain Reaction Cycles, the World's Largest Online Bike Store.
All product information is direct from Chain Reaction Cycles. Merchant's category is Components > Groupsets.
MTB Components: Whether you are repairing, upgrading or building a bike from scratch, we have all the components you need for your Mountain Bike. Upgrade you drivetrain, grab new handlebars, add fresh pedals and handlebar grips to keep you cemented to that ride, or choose a comfy or lightweight saddle to match your riding style. And don't forget those brakes to give you the stopping power you need. So no matter which part of your mountain bike you are upgrading, from a new suspension set-up to the smallest bolt, Action Sports Club has you covered.
Popular Discount Voucher Code Today
Save £20 Off £100 Spend on Selected Cycle,Outdoor and Run Wear Terms: wiggle.co.uk/h/option/Promotions
Home
|
Contact Us
|
Become a Partner
|
Advertise
|
General T&Cs
|
Membership T&Cs
|
Privacy Policy
| Copyright © 1997-2020 Action Sports Club Limited.
Site by
// 4.638.3