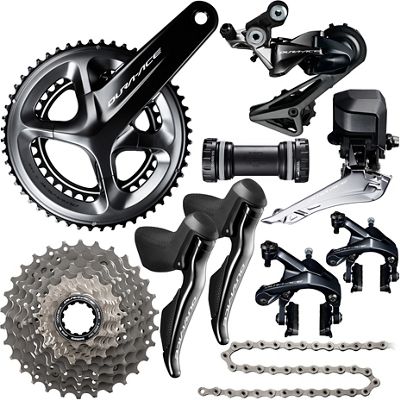 | | |
| --- | --- |
| Was | £3,097.99 |
| Now | £2,219.99 (28% off) |
Shimano Dura-Ace R9150 Di2 11-Speed Groupset. Each component of Shimano's Dura-Ace R9150 groupset has been re-engineered to ensure maximum stiffness, performance and efficiency at the lightest possible weight Synchro Shift. For the first time in a Dura-Ace groupset, Shimano™s innovative Synchro Shift is now available as a programmable Di2 option; Synchro Shift creates an intuitive experience with synchronised front and rear shifting, which can be custom programmed. With 'full' and 'semi' Synchro Shift available, this intuitive new mode automatically reacts when you shift from one chainring to another. Remove the guess work as your rear derailleur shifts automatically to minimise the gear step so you can keep riding with a smooth cadence and rhythm Di2 E-Tube. The Di2 E-Tube system provides unmatched shift performance, reliability and rider customisation. Along with enhanced Di2 functionality, the front and rear Di2 derailleurs are connected via Shimano™s small EW-WU111 wireless unit allowing for an ANT Private connection between Dura-Ace R9100 and third party devices. These components can be connected to Shimano´s E-Tube software, which supports the programmable aspects of the Di2 electronic gear shifting system. Use the Bluetooth technology for seamless access on smartphones and tablets Dura-Ace R9100 Crankset. The Shimano Dura-Ace R9100 Compact Crankset is completely re-designed to offer the very best combination of light weight and stiffness. It features Shimano's iconic 4-arm hollow spider that is made from hollow-forged aluminium Although the crank arms and spider arms are noticeably bigger, which increases stiffness, the overall weight has dropped by 7g over the previous edition of Dura Ace The crankset has been adapted to work with disc brake road bikes that generally have 135mm rear hub spacing and shorter chainstays without the need to increase Q-factor thanks to its wider chainring spacing Dura-Ace R9100 Crankset Features: Material: Hollow-forged AluminiumEnhanced design saves 7g while maintaining rigidityIconic 4-arm construction maintains high rigidity and reduces weightOptimised crank arm design strengthens key stress zonesNew chainring tooth profile is adapted for race bike specific disc brake systemsAccommodates shorter chainstays (410mm) with 135mm OLDHollowglide chainring construction maintains smooth shifting whilst reducing weight and increasing stiffnessDura-Ace Di2 R9150 2x11 STI Shifter Set. The Dura-Ace Di2 9150 shifters feature an ideal ergonomic shape that is comfortable in the hand and have been updated to be more precise and more adaptable than previous editions. The shift paddles now feature a more defined "click" and have been extended in length for more confident and comfortable shifting E-Tube compatibility means that the function of the shift paddles can be customised to suit the rider The Di2 R9150 shifters now include Synchro Shift technology that automatically moves the rear derailleur when the front ring is changed or moves the front chainring with the rear shifts to optimise chainline and drivetrain efficiency Dura-Ace Di2 R9150 2x11 STI Shifter Set Features: Material: Carbon Composite Plastic (Hood)More control and confidence in race conditionsDedicated brake lever shape, stroke, contact point, stiffness and dedicated shift paddlesLightweightMore intuitive, quicker shifting operationMore defined click feeling and ergonomic shift lever positionEach switch has the option for multi-shift On or OffE-Tube projectIdeal ergonomic cover shape with better thickness and tendernessSimple set up and maintenanceEasy replace hood coverCustomise the shifts to suit your riding styleWeight: 460g (Pair)Dura-Ace Di2 R9150 Rear Derailleur. The Dura-Ace Di2 R9150 Rear Derailleur takes the Shadow technology from its mountain bike range and introduces it to the road. The shadow design places the rear derailleur under the chainstay and cassette to give a slimmer profile, which not only helps with aerodynamics but also offers extra protection in crashes The Shadow design offers faster wheel changes thanks to the fact that it moves the derailleur out of the way of the dropouts. It also offers faster and more precise shifting than ever before The new derailleur comes in only one cage size that will work with cassette sprockets up to 30T. With this new Di2 9150 groupset, Shimano brings Synchro Shift to the road too. This technology allows you to shift to higher or lower gears with your right hand shifter and both front and rear derailleurs will operate to optimise chainline. It will also automatically shift the rear mech when you change from the large ring to the inner ring to maintain smoothness Dura-Ace Di2 R9150 Rear Derailleur Features: Maximum Sprocket: 30TMinimum Sprocket: 11TMaximum Front Difference: 16TTotal Capacity: 35TErgonomic shifting operation without stressShimano Synchronised shiftLow profile rear derailleur designShimano Shadow RDRace endurance for less damage in crashMaintains compact and smooth appearanceWeight: 204gDura-Ace Di2 R9150 Braze On Front Mech. The Dura-Ace 9150 front derailleur delivers unmatched shift quality, for quick and smooth performance even under high pedalling torque. Combined with Shimano™s Synchro Shift customisable programming, Dura-Ace Di2 delivers a level of intuitive shift performance never before seen  Dura-Ace Di2 R9150 Braze On Front Mech Features: Top Gear Teeth: 46-55TChainstay Angle: 61-66Chain Line: 43 5Ergonomic shifting operation without stressShimano Synchro ShiftRace endurance for less damage in crashQuick and smooth front shifting under high pedalling torqueMaintains compact and smooth appearanceWeight: 104gSD50 Di2 Electric Wires. The removal of traditional mechanical cables in favour of electrical wires not only eliminates poor shifting caused by contaminates, corrosion and stretching, but provides effortless gear shifts Groupset includes 1x1200mm, 1x1000mm, 1x700mm and 3x300mm wires SD50 Di2 Electric Wire Features: Di2 uses a fully removable individual cable system from the battery indicator junction box enabling fine tuning with the correct cable length to each component for easy and tidy fitment EW-SD50 wires are required to connect the junction (either SM-JC40 external or SM-JC41 internal to the rear mech, front mech, battery and to the handlebar battery indicator junction box EW-SD50 individual wires are available in varying lengths, there is no need (or facility) to cut these cables Reliable and secure water resistant connectorsJC41 E-Tube Di2 Internal Junction Box. The Shimano Di2 SM-JC41 internal junction box is the Grand Central Station of the e-tube Di2 system. All of the component and battery wires meet here before running out to their respective components. All of the wires that connect to the junction box use the same connector to make assembly that much easier JC41 E-Tube Di2 Internal Junction Box Features: SM-JC41 cable junction for internal wire routing Junction is required for connection of rear mech, front mech, battery, and cable to battery indicator junction box To be positioned neatly inside frame tubing when connected Cables sold separately Reliable and secure water resistant connectors This junction box is only made to be mounted internally on frames specially designed for an internally routed systemDi2 EW90 Junction-A Box - 3 Port. The removal of traditional mechanical cables in favour of electrical wires not only eliminates poor shifting caused by contaminates, corrosion and stretching, but provides effortless gear shifts Di2 EW90 Junction-A Box - 3 Port Features: This junction A is required to connect the shifters via E-tube wires to the downtube junction wire 3-port design, one for downtube wire to bottom bracket junction, two for shifter connection Battery level indicator feature E-tube EW-SD50 wires not included Additional charging point when using internal battery Gear index setup switch to allow fine tuning via shifter buttons Reliable and secure water resistant connectors Stem mounting strap includedBT-DN110 Di2 Battery. Shimano's BT-DN110 Di2 7.4V lithium-ion battery is suitable for concealed internal mounting. This high-end lithium-ion battery will ensure the consistent, smooth, and precise functioning of your Di2 setup BT-DN110 Di2 Battery Features: Long battery life (up to 2000km when fully charged). Internal mounting. Lightweight Excellent sealing and reliability Weight: 50gDi2 BCR2 Charger for BTR2. Di2 charger for the internal battery that will keep your Di2 system shifting BT-DN110 Di2 Battery Features: Di2 uses a powerful long-life 7.4V Li-Ion battery: keep it in top condition and ready for shifting with this specific Shimano Di2 charger 1.5 hour charge time Plugs in directly to the SM-EW90 handlebar junction A Can also be used for completing firmware updates when linked to E-tube software on your PCSM-GM01 E-Tube Di2 Grommet. E-tube Di2 internal cable routing grommets to protect the wires as they enter the frame from snagging and provide a neat, clean look to your Di2 cable routing Features: Protective solution that is quick and easy to install Pack of 4Dura-Ace R9100 Road Brake Caliper Set. The Dura-Ace 9100 brakes have been developed to offer greater tyre clearance for up to 28c tyres while still maintaining the aerodynamic advantage of previous editions. They are now also up to 43% stiffer than previous Dura-Ace brake calipers and offer a linear braking curve for improved feel and function Dura-Ace R9100 Road Brake Caliper Set Features: Mount Type: SLR EV Dual PivotThe best balance between rigidity, weight and stopping powerMore predictable, linear braking curveClear contact feeling with better linearityMore aerodynamic QR leverSleek designLess gap between each armBetter clearance with wider tyre (up to 28c)Weight: 326g (Pair)Dura-Ace R9100 Cassette. Shimano have retained the traditional close ratio cassettes from previous editions of Dura-Ace; all cassettes in the range will be compatible with the one rear derailleur so you can easily swap your cassettes out based on terrain The cassette is manufactured from a lightweight alloy and carbon fibre spider that houses alloy sprockets. The 5 largest sprockets are manufactured from titanium to keep the weight low. The sprockets are also extensively cut away and drilled to further reduce weight without reducing rigidity The very best and quickest shifts are optimised thanks to the Hyperglide EV sprockets that have a computer designed tooth configuration with contoured shift gates Dura-Ace R9100 Cassette Features: Hyperglide EV sprockets have a computer designed tooth configuration with contoured shift gates, resulting in a crisp smooth shift even under loadClose ratio gearing allows a more efficient use of energy through finer cadence controlLargest sprockets are mounted on lightweight alloy and carbon carriers to reduce weight and increase rigidity5 largest sprockets are made from titanium to reduce weight without sacrificing strengthSprockets are extensively cut away and drilled to further reduce weight without reducing rigidityNickel-plated finish offers hard wearing resistance to corrosionAlloy cassette lockringWeight: 175g (11-25T), 193g (11-28T), 211g (11-30T), 189g (12-25T), 205g (12-28T)Dura Ace 11-speed Chain CN-9000 114 Links. The new symmetrical 11-speed Dura-Ace chain uses hollow pins for low weight, PTFE coating for smooth shifts and offers increased durability Dura Ace 11-speed Chain CN-9000 114 Links Features: PTFE coating Increased durability (vs. CN-7900) Weight: 243g Please note that this groupset does not come supplied with outer cables. A 2-year warranty is offered with all Shimano products from Chain Reaction Cycles (3 years on Dura-Ace and XTR products). Buy Shimano Components from Chain Reaction Cycles, the World's Largest Online Bike Store.
All product information is direct from Chain Reaction Cycles. Merchant's category is Components > Groupsets.
MTB Components: Whether you are repairing, upgrading or building a bike from scratch, we have all the components you need for your Mountain Bike. Upgrade you drivetrain, grab new handlebars, add fresh pedals and handlebar grips to keep you cemented to that ride, or choose a comfy or lightweight saddle to match your riding style. And don't forget those brakes to give you the stopping power you need. So no matter which part of your mountain bike you are upgrading, from a new suspension set-up to the smallest bolt, Action Sports Club has you covered.
Home
|
Contact Us
|
Become a Partner
|
Advertise
|
General T&Cs
|
Membership T&Cs
|
Privacy Policy
| Copyright © 1997-2020 Action Sports Club Limited.
Site by
// 4.638.3