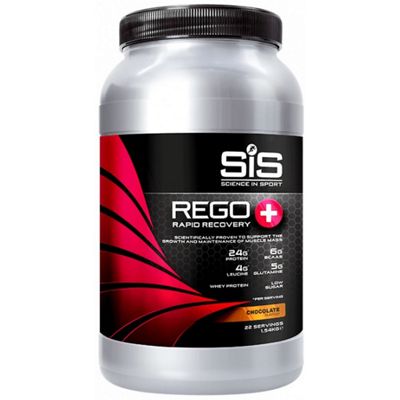 Science in Sport REGO Rapid Recovery + 1.54Kg. REGO Rapid Recovery + contains the highest quality whey protein concentrate with a complete amino acid profile and 2g of leucine and 5g of L-Glutamine to support muscle protein synthesis  Leucine is a branched amino acids, known to switch the signaling for muscle protein synthesis while L-Glutamine is widely regarded as one of the most complete amino acids with immune properties. In perfectly blending carbohydrate, protein, L-Glutamine and BCAAs, the formula promotes the replenishment of muscle glycogen stores, kickstarting protein synthesis  Carbohydrates are key when fueling moderate to high-intensity exercise with our bodies absorbing 60-90g of carbohydrate per hour. This means our demand will outstrip the supply of energy, causing fatigue, meaning stores should be replenished post exercise REGO Rapid Recovery Plus is tested under the Informed Sport Certification program. This approach involves testing every single batch of Science in Sport finished product which leaves the Company's factory, screened against the 2017 World Anti-Doping Agency (WADA) list. Banned substances including steroids are tested to the level of 10 Nanograms per gram, and stimulants to 100 Nanograms per gram. Batches (sampled at the beginning, during and end of each product batch) receive the recognised and respected Informed Sport certificate and Science in Sport provides the documentation to athletes on request Recommended usage: Consume 1 x 70g serving (3 heaped scoops) of REGO Rapid Recovery Plus within 30 minutes of completing your tough training session/competition. Mix with 500ml of water, mixing it with milk will slow down the absorption rate Nutrition Information.   All Flavours  Per 100gPer Serving (70g)Energy (kj) 15961117Energy (kCal) 377264Fat (g) 3.12 2of Which Saturates (g) 1.91 3Carbohydrates (g) 5538of Which Sugars (g) 3.52 5Protein (g) 3424Salt (g) 0.410 29Vitamin D (mcg) 1 431Vitamin E (mg) 42 8Vitamin C (mg) 3424Thiamin 0.70 5Riboflavin (mg) 0.80 6Niacin (mg) 10.47 3Vitamin B6 (mg) 1.10 8Folic Acid (mcg) 7150Vitamin B12 (mcg) 0.60 4Biotin (mcg) 2518Pantothenic Acid (mg) 2.11 5Iron (mg) 3.42 4Zinc (mg) 2.92Iodine 3323BCAA 8 66L-Leucine (g) 5 74L-Isoleucine (mg) 1 41L-Valine (mg) 1 41L-Glutamine (mg) 71Ingredients: Water, Maltodextrin (from Maize) Gelling Agents (Gellan Gum, Xanthan Gum), Natural Flavouring, Acidity Regulators (Citric Acid, Sodium Citrate), Preservatives (Sodium Benzoate, Potassium Sorbate), Sweetener (Acesulfame K), Sodium Chloride, Antioxidant (Ascorbic Acid)Features: 24g of protein with 6g BCAAs to promote the rebuilding of muscle tissue38g of carbohydrate from maltodextrinAdditional 5g of L-GlutamineUse after exercise to replenish your energy stores fastBuy Science in Sport Nutrition from Chain Reaction Cycles. The World™s Largest Online Bike Store.
All product information is direct from Chain Reaction Cycles. Merchant's category is Nutrition & Training > Nutrition.
Energy Food: Never lose that edge by maintaining the right nutrition before, after, and even during your sport with our range of Energy Food. Replacing electrolytes and getting the right mix of carbs and protein is vital to peak performance, so stock up on our range of protein bars, energy drinks and performance gels to gain that edge on the competition.
Home
|
Contact Us
|
Become a Partner
|
Advertise
|
General T&Cs
|
Membership T&Cs
|
Privacy Policy
| Copyright © 1997-2019 Action Sports Club Limited.
Site by
// 4.638.3