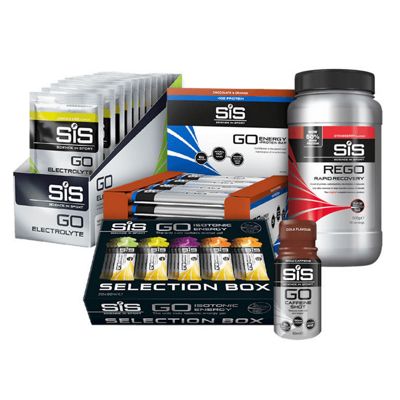 Science in Sport Cycling Bundle. Everything you need to hydrate, fuel and maximise recovery can be found in the Science in Sport Cycling bundle Designed to offer up to six weeks of fuel, the Cycling bundle is made up of 20 x GO Isotonic Energy Gels, 24 x GO Energy + Protein bars, 18 x GO Electrolyte, 10 servings of REGO Rapid Recovery and 6 x GO Caffeine Shots (Cola) 60ml. This combination of products will provide all the necessary boosts needed to maintain consistent training, perfect for racers or those building up for a key summer Sportive, Audax or Gran Fondo  SiS GO Isotonic Energy Gels. Flavoured carbohydrate gel with added sweetener. SiS designed the world's first isotonic energy gel to be clean in the mouth and easy to digest. Our patented product means it delivers energy fast without the need for extra water for when you need a fast, convenient energy boost. Winner of the Queens award for enterprise, this innovative product continues to be seen at the forefront by endurance athletes. Use during endurance sessions and events to help avoid flagging Key FeaturesFast acting energy gel No need for additional water Informed Sport tested  SiS GO Energy+Protein Bars. GO Energy + Protein Bars are a nutritious, easily digestible high carbohydrate and protein based snack; made from fruits, wholesome ingredients and soy protein isolate Delivering additional carbohydrate during exercise is known to improve performance, race times and delay the onset of fatigue; while protein contributes to the growth and maintenance of muscle masKey FeaturesApprox. 35g of carbohydrate per bar10g Protein per barMade from natural ingredientsContributes to the growth and maintenance of muscleInformed Sport testedSiS GO Electrolyte. SiS GO Electrolyte gives you energy fast and contains balanced electrolytes to enhance your body's ability to absorb water, maintain endurance performance and protect against cramp Key Features: As easy to drink as water, SiS GO Electrolyte puts back what you sweat out Ideal for indoor workouts, exercise in the heat or any time when you are sweating heavily or dehydrating Fast hydration plus sustained energy for before and during exercise When you want a balance of energy and hydration It is light on the stomach Use before to prepare and during sport when you are sweating heavily SiS GO Caffeine Shots. Cola flavoured caffeinated shot with 150mg caffeine to provide a mental and physical boost and added Vitamin B to support a reduction in tiredness and fatigue. Developed by working closely with top-level athletes and teams, the SiS Caffeine Shot meets the needs of cyclists, runners, triathletes and players of team sports, such as football. Formulated by SiS's scientists, the Caffeine Shot's comprehensive formulation uses only the best ingredients. Its ultra-convenient format makes it easy to take before going to the gym, at races, or during halftime The SiS Caffeine Shot is the ideal choice for professional and recreational athletes alike, especially when added focus is needed for training or competition. Like all SiS products, the Caffeine Shot is backed by industry leading quality control processes, so you know it contains exactly what's stated on the label  Key Features:Advanced formulation delivering 150mg caffeineHelps maintain focus and concentrationFeatures 2g citrulline malate, with vitamins B6, B9 and B12Magnesium to maintain muscle and nerve function Reduces tiredness and fatigueImproves endurancePerfect for use before or during exerciseSiS REGO Rapid Recovery Drink Powder. Providing rapidly digestible protein also provides amino acids to support muscle protein synthesis for growth and rebuild. Soy has a complete amino acid profile to which we have added additional leucine to make the formulation even more effective. Leucine is an amino acid which is known to switch on the signalling for muscle protein synthesis, amplifying the affect Key Features:To recover, rebuild and support the body's adaptation to training When you are in a training programme and need your body to adapt to increasing demands.A full spectrum recovery product for periods of intense training Developed with feedback from the Olympic cyclist Chris Boardman, it helps your muscles to recover and rebuild Use immediately after exercise to help your body adapt to increased training demands to become stronger as quickly as possible Easy on the stomach, so it can be taken after hard exercise Features: 20 x GO Isotonic Energy Gels24 x GO Energy + Protein bars18 x GO Electrolyte10 servings of REGO Rapid Recovery6 x 60ml Caffeine ShotsBuy Science in Sport Nutrition from Chain Reaction Cycles, the World™s Largest Online Bike Store.
All product information is direct from Chain Reaction Cycles. Merchant's category is Nutrition & Training > Nutrition.
Energy Food: Never lose that edge by maintaining the right nutrition before, after, and even during your sport with our range of Energy Food. Replacing electrolytes and getting the right mix of carbs and protein is vital to peak performance, so stock up on our range of protein bars, energy drinks and performance gels to gain that edge on the competition.
Popular Post Today
Created by
kevob
8 years 19 weeks ago
Home
|
Contact Us
|
Become a Partner
|
Advertise
|
General T&Cs
|
Membership T&Cs
|
Privacy Policy
| Copyright © 1997-2019 Action Sports Club Limited.
Site by
// 4.638.3