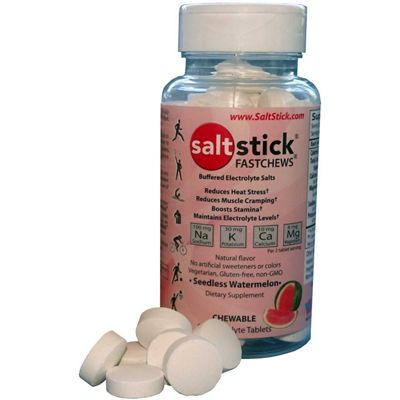 Saltstick Fastchews (60 tablets). The Saltstick Fastchews (60 tablets) give you a balanced intake of electrolytes that you lose through sweat. This will help stave off heat stress, delay the onset of cramp and boost stamina when the heat is up When exercising in warmer conditions you lose essential electrolytes in sweat, which need replacing to maintain performance  Saltstick Fastchews contain key electrolytes sodium, potassium, magnesium and calcium in a chewable tablet that makes them wonderfully easy to ingest and quick acting  Features: The ONLY chewable tablet that is formulated to closely resemble the electrolyte profile lost in sweatFASTCHEWS help to reduce muscle cramping and heat stress, boost stamina, and maintain electrolyte levels Chewable tablets provide fast absorption through buccal mucosa (tissue in mouth)Free of banned substances and independently testedEach serving (2 tablets) contains: 100 mg sodium, 30 mg potassium, 10 mg calcium, 6 mg magnesiumSuggested use: 2 tablets per 15-30 minutes during activityDelicious natural flavours encourage consumption Ingredients are: non-GMO, gluten-free, vegetarian, fat-free. Natural stevia as sweetener. No colour added Bio-available active ingredientsAlso great for youth sports, travel rehydration, tennis and other sports, camping & hiking, effects of alcohol Suitable for vegetarians and the Lemon-Lime is vegan-friendly All Flavours  Per Serving (2Tab)Energy (kCal) 10Carbohydrates (g) 2Calcium (mg) 10Magnesium (mg) 6Sodium (g) 0 1Potassium (mg) 30Other ingredients (Lemon-Lime): Dextrates. dextrose, citric acid, natural lemon-lime flavour, stearic acid, crospovidone, malic acid, silica, magnesium stearate, stevia extractOther ingredients (Tart Orange): Dextrates. dextrose, citric acid, natural orange flavour, stearic acid, crospovidone, malic acid, silica, magnesium stearate, stevia extract. Orange flavour contains a trace amount of lactose. Allergen warning: This product contains milk Buy Saltstick Products from Chain Reaction Cycles, the World's Largest Online Bike Store.
All product information is direct from Chain Reaction Cycles. Merchant's category is Nutrition & Training > Nutrition.
Energy Food: Never lose that edge by maintaining the right nutrition before, after, and even during your sport with our range of Energy Food. Replacing electrolytes and getting the right mix of carbs and protein is vital to peak performance, so stock up on our range of protein bars, energy drinks and performance gels to gain that edge on the competition.
Home
|
Contact Us
|
Become a Partner
|
Advertise
|
General T&Cs
|
Membership T&Cs
|
Privacy Policy
| Copyright © 1997-2019 Action Sports Club Limited.
Site by
// 4.638.3