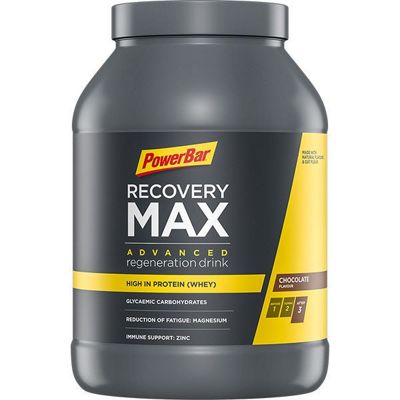 . In order to make the most of your training or competition, optimal recovery is key. PowerBar RECOVERY MAX was developed on the basis of sports nutrition scientific findings. The powder combines high glycemic carbohydrates with protein. Carbohydrates help refuel your energy tanks (glycogen stores) and protein supports growth and maintenance of muscle mass. In addition to zinc and magnesium, ingredients of the highest quality such as whey protein and oatmeal are contained Suggested Usage: -1-2 portions per day, immediately after sport -After intense exercise: 2 portions. After light exercise: 1 portion -Mixing instruction (1 portion): Mix 44 g (approx. 3 dosing spoons - included) with 125 ml of water.- As part of a varied and balanced diet and a healthy lifestyle Features: With 10 g premium whey protein per portionHigh glycaemic carbohydrates (like maltodextrin from corn) and high quality oat flourMith zinc and magnesium. Zinc contributes to the normal function of the immune system and magnesium contributes to a reduction of tiredness and fatigueNo antioxidant vitamins, in order not to hinder training-induced adaptations in the bodyFree from artificial flavours, preservatives, sweeteners (according to law), stabilizers and thickenersCarbohydrates contribute to the recovery of normal muscle function (contraction) after highly intensive and/or longlasting physical exercise leading to muscle fatigue and the depletion of glycogen stores in skeletal muscleChocolateRaspberry  Per 1 Portion (Per 44 g in 125 ml water)Per 2 Portions (per 88 g in 250 ml water)Per 1 Portion (Per 44 g in 125 ml water)Per 2 Portions (per 88 g in 250 ml water)Energy (kj) 69313856991397Fat (g) 0.91.80.81 6of Which Saturates (g) 0.40.70.20 5Carbohydrates (g) 28572958of Which Sugars (g) 10218 818Protein (g) 10201020Salt (g) 0.320.640.260 52PowerBar Recovery Max ingredients Chocolate - Maltodextrin (43%), whey protein (milk), sugar, skimmed milk powder, fat reduced cocoa powder (6%), oat flour (2%), natural flavouring, magnesium carbonate, zinc citrate, salt, emulsifier (soy lecithin) Raspberry - Maltodextrin (51%), whey protein (milk) (29%), sugar, oatflour (2%), acidity regulator (citric acid), magnesium carbonate, zinc citrate, salt, natural flavouring, colour (beetroot red), emulsifier (soy lecithin) Buy PowerBar Nutrition from Chain Reaction Cycles. The World™s Largest Online Bike Store.
All product information is direct from Chain Reaction Cycles. Merchant's category is Nutrition & Training > Nutrition.
Energy Food: Never lose that edge by maintaining the right nutrition before, after, and even during your sport with our range of Energy Food. Replacing electrolytes and getting the right mix of carbs and protein is vital to peak performance, so stock up on our range of protein bars, energy drinks and performance gels to gain that edge on the competition.
Popular Discount Voucher Code Today
Save £20 Off £100 Spend on Selected Cycle,Outdoor and Run Wear Terms: wiggle.co.uk/h/option/Promotions
Home
|
Contact Us
|
Become a Partner
|
Advertise
|
General T&Cs
|
Membership T&Cs
|
Privacy Policy
| Copyright © 1997-2020 Action Sports Club Limited.
Site by
// 4.638.3