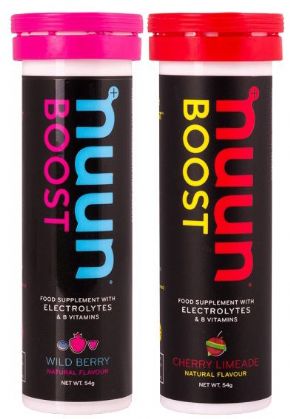 You need a lift - nuun boost elevates your hydration With optimal electrolytes caffeine and b vitamins nuun boost keeps you hydrated and gives you a boost when you need it most. nuun boost contains caffeine from green tea extract b-vitamins and their signature blend of optimal electrolytes. nuun boost contains clean ingredients and is low in calories and sugar. The caffeine helps to give your energy a lift and b vitamins help your body to metabolize fuel efficiently to keep energy high with the same optimal electrolyte level you know and trust from nuun active. nuun boost will also keep you hydrated and cramps at bay. Optimal hydration Electrolytes are tiny electronically charged particles that are lost via sweat during exercise. The four main electrolytes that play vital roles in hydration and exercise performance are: sodium potassium magnesium and calcium. nuun boost also contains a unique blend of b vitamins that work to breakdown food for energy. nuun boost contains 30-100% of your daily value of these b vitamins making it ideal for absorption without overwhelming the body. Sodium: maintains fluids balance Potassium: prevents muscle cramps Magnesium: relaxes muscles Calcium: required for normal muscle functions nuun boost is new + improved nuun boost has the same great hydration + energy benefits that athletes love but now also includes: Plant-based caffeine: caffeine sourced from green tea extract Clean ingredients: plant based sweeteners and ingredients to increase health benefits Gluten-free dairy + soy free safe for clean sport certifications Ingredients Each tube of nuun boost contains 10 tablets. Each tablet makes one 16oz sports drink. Each tablet contains: 10 calories 9 vitamins and minerals Sodium: 360 mg Potassium: 100 mg Magnesium: 25 mg Calcium: 13 mg Vitamin c: 38 mg Niacin: 20 mg Vitamin b6: 2 mg Vitamin b12: 6 mcg Caffeine: 40 mg Other ingredients include: Caffeine sourced from green tea extract Plant based sweetener stevia to provide a crisp and light sweetness Non-gmo (non-genetically modified) sourced dextrose to increase the speed of absorption and hydrate you faster Avocado oil for processing
All product information is direct from Cycle Store. Merchant's category is Accessories > Energy Food Drinks & Supplements > Energy Drink.
Energy Food: Never lose that edge by maintaining the right nutrition before, after, and even during your sport with our range of Energy Food. Replacing electrolytes and getting the right mix of carbs and protein is vital to peak performance, so stock up on our range of protein bars, energy drinks and performance gels to gain that edge on the competition.
Home
|
Contact Us
|
Become a Partner
|
Advertise
|
General T&Cs
|
Membership T&Cs
|
Privacy Policy
| Copyright © 1997-2019 Action Sports Club Limited.
Site by
// 4.638.3