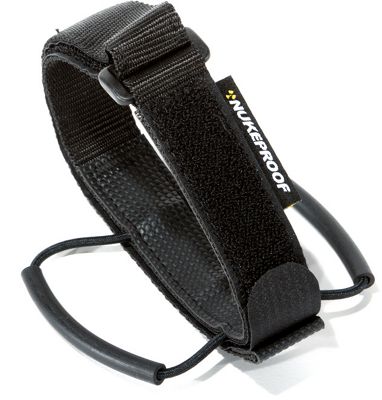 . Enduro riding is becoming more demanding so the need to carry spares is becoming essential. The best place to store these is on your bike rather than on your back so these straps will allow you to do that. Adding spares to the frame eliminates the need to carry a bag or will give you extra space in your bag for other essentials. This strap can comfortably carry a spare inner tube & two Co2 cannisters. Straps are available in two lengths, 38cm for saddles and 60cm for frames. How to use: 1.: Get your spare tube and ensure that it is neatly folded. Gather any other accessories you want to carry (multi tool, Co2 etc) 2.: Lay the strap flat, the side with the rubber grip area should be facing you 3.: Place the inner tube on the strap and secure in place using the two loops 4.: Turn the strap over 5.: Get your accessories and push them between the strap & the tube 6.: Take the loaded strap to your bike and set the rubber contact bars against the frame or saddle 7.: Put the strap round the frame / saddle, though the loop and then back on itself, pull it tight and ensure the Velcro is fully stuck8: If the strap is on your frame, ensure that the strap will not obstruct your shock from compressing or get in the way of other moving parts9: On the 38cm strap there are extra velcro securing tabs to go over the strap for added security, these can now be fastened 10.: Go and enjoy your rideShort " 38cm (For attaching to your saddle but can be used on frames with skinny tubing)Long " 60cm (For attaching to the frame but will also work on the saddle)Buy Nukeproof Accessories from Chain Reaction Cycles, the World's Largest Online Bike Store.
Bike Bags: Backpacks, panniers, seat packs, handlebar packs, or even a bag for your bike itself, Action Sports Club has you covered when it comes to bicycle luggage. With a huge range of on bike luggage options, you can take that weight off your back, and whether you need a small aero pack to keep that spare inner tube, or a full set of panniers to carry everything but the kitchen sink, we have options for every style of bike and for every price point. If you are a fan of the classic backpack, we have a massive range designed especially for cyclists, featuring super comfortable designs and integrating wicking technologies and all weather covers to keep you and your cargo dry.
Popular Post Today
Created by
dunx
11 years 44 weeks ago
BartSimpsonhead
50 weeks 56 min ago
Home
|
Contact Us
|
Become a Partner
|
Advertise
|
General T&Cs
|
Membership T&Cs
|
Privacy Policy
| Copyright © 1997-2019 Action Sports Club Limited.
Site by
// 4.638.3