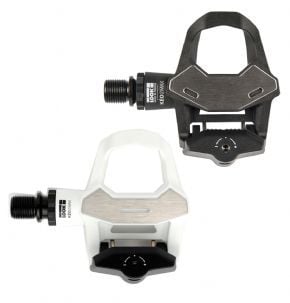 LOOK KEO 2 MAX PEDALS WITH KEO GRIP CLEAT RIDE AT YOUR BEST THE NEW KEO 2 MAX IS THE PRODUCT THAT WILL GIVE YOU THE CONFIDENCE YOU NEED TO GO BEYOND YOUR PERSONAL LIMITS. The LOOK design team has completely remodelled the shape of the KEO 2 MAX giving it a new slimmed down line yet a wider contact surface increasing its style and efficiency. TECHNOLOGIES OPTIMIZED CONTACT SURFACE The pedal's surface area has substantial symbolic importance. It is part of the brand's identity and acts as an indelible signature on the product. The contact surface of the new KEO 2 MAX preserves the strong lines on which its history was built. Its width has been increased to 60 mm to provide a larger platform and improved foot stability during pedalling. This creates a feeling of unrivalled comfort not found in any other pedal. We also sought to optimize power transfer thanks to its new 500 mm² of usable surface +25% increase. The shape of the stainless-steel plate has been revised to match that of the cleat and to keep regardless of the position of your foot depending upon the angular float you use the same amount of contact for consistent performance. Increasing the pedal's usable contact surface without any additional weight gain improves the Power to Weight ratio making the product even better and allowing you to perform at your best. IMPROVED SPINDLE PROFILE The spindle profile of the new KEO 2 MAX has also been optimized. Built around an oversized «Chromoly Plus» steel axle it is composed of an axle with an inner ball bearing and a needle roller bearing located under the contact surface to handle the load and distribute it optimally. A new component has been added between these two bearings. A serrated washer previously used to hold the needle roller bearing in place has been replaced with a conical spacer. This technical solution reduces friction increases fluidity and by consequence decreases the geometrical tolerances of the pedal body and play. The sole purpose of the sum of these improvements has been to guarantee you irreproachable reliability. SPECIFICATIONSUSAGE: Recreational to CompetitionBODY: CompositeAXLE: Chromoly +PEDAL STACK HEIGHT + CLEATS: 17 3 mmCONTACT SURFACE AREA: 500 mm²FLOAT: 8 or 12 adjustable springCLEATS: Kéo Grip CleatsPEDAL WEIGHT: 130 gr 328 gr per pair with cleats and screwsCOLOURS: Black or WhiteACCESSORIES: A pair of Grey Kéo Grip cleats + screwsGUARANTY: 2 years
All product information is direct from Cycle Store. Merchant's category is Components > Pedals & Toeclips > Pedals - Clipless/Spd > Road Clipless/Spd Bike Pedals.
Bike Components: Building a new bike, upgrading, maintaining or repairing, we have all the bicycle components any bike nut could need. Whether it's a new saddle for extra comfort on those longer journeys, or replacing warn out drivetrain components, new handlebars for a better riding position or just a new set of brake pads, Action Sports Club has you covered for all your bike component needs.
Home
|
Contact Us
|
Become a Partner
|
Advertise
|
General T&Cs
|
Membership T&Cs
|
Privacy Policy
| Copyright © 1997-2020 Action Sports Club Limited.
Site by
// 4.638.3