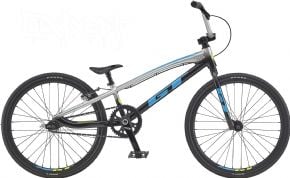 | | |
| --- | --- |
| Was | £549.99 |
| Now | £467.49 (15% off) |
A lightweight stiff frame to help you get the holeshot and take the win. Product technical Specification EXPERT Frame GT Speed Series MK7 Junior Race Design 6061-T6 AL Alloy Formed and Butted Speed Metal Tubes Reverse Dropouts Euro BB 1-1/8' Integrated H/T Fork GT BMX Expert Race 100% Cr-Mo 1-1/8' Steerer 25.4x1.2mm Blades 312mm A/C 3/8' Dropouts Rear Shock Null Rims Speed Series Aero Double Wall 28h Spokes Stainless Steel 14g Pedals GT high impact nylon platform Crank GT Forged Alloy 2pc. 165mm Arms 24mm Hollow Alloy Spindle 39T AL CNC Chain Ring Alloy Chain Ring Bolts Bottom Bracket EB24 Sealed Bearings Chain KMC Z1 Narrow 3/32' Rear Cogs 15T Front Derailleur Null Rear Derailleur Null Shifters Null Handlebar GT Speed Cr-Mo 6.5'H x 26'W 8Deg Back 4Deg Up Taper Cross Bar Grips GT Statement2 Single Lock-on Grips Stem GT Top Load Cold Forged 1-1/8' 40mm Brakes Promax MV-87 85mm Cold Forged AL Arms Mini V-Type Brake Levers Promax 2 Finger Lever w/ Reach Adjust E-Bike Display Null E-Bike Battery Null E-Bike Charger Null E-Bike Drive Unit Null Saddle BOX Echelon Seatpost Alloy integrated w/ Saddle 22.2 x 135mm Speeds 1 Fork Travel Null Front Hub GT Speed Series Alloy CNC Body Sealed Bearings 28h 3/8' Female Allen Bolts w/ Alloy Washers Front Tire Kenda Kompact Pro Race 20 x 1-3/8' Rear Hub GT Speed Series Cassette Alloy CNC body 5 Sealed Bearings 3 pawl Cassette 28h 3/8' Female Allen Bolts w/ Alloy Washers Rear Tire Kenda Kompact Pro Race 20 x 1-3/8' Expert XL Frame GT Speed Series MK7 Junior Race Design 6061-T6 AL Alloy Formed and Butted Speed Metal Tubes Reverse Dropouts Euro BB 1-1/8' Integrated H/T Fork GT BMX Expert Race 100% Cr-Mo 1-1/8' Steerer 25.4x1.2mm Blades 312mm A/C 3/8' Dropouts Rear Shock Null Rims Speed Series Aero Double Wall 28h Spokes Stainless Steel 14g Pedals GT Low Profile FS Platform Design PP Material Boron Axle Crank GT Forged Alloy 2pc. 165mm Arms 24mm Hollow Alloy Spindle 39T AL CNC Chain Ring Alloy Chain Ring Bolts Bottom Bracket EB24 Sealed Bearings Chain KMC Z1 Narrow 3/32' Rear Cogs 15T Front Derailleur Null Rear Derailleur Null Shifters Null Handlebar GT Speed Cr-Mo 6.5'H x 26'W 8Deg Back 4Deg Up Taper Cross Bar Grips GT Statement2 Single Lock-on Grips Stem GT Top Load Cold Forged 1-1/8' 40mm Brakes Promax MV-87 85mm Cold Forged AL Arms Mini V-Type Brake Levers Promax 2 Finger Lever w/ Reach Adjust E-Bike Display Null E-Bike Battery Null E-Bike Charger Null E-Bike Drive Unit Null Saddle BOX Echelon Seatpost Alloy integrated w/ Saddle 22.2 x 135mm Speeds 1 Fork Travel Null Front Hub GT Speed Series Alloy CNC Body Sealed Bearings 28h 3/8' Female Allen Bolts w/ Alloy Washers Front Tire Kenda Kompact Pro Race 20 x 1.5' Rear Hub GT Speed Series Cassette Alloy CNC body 5 Sealed Bearings 3 pawl Cassette 28h 3/8' Female Allen Bolts w/ Alloy Washers Rear Tire Kenda Kompact Pro Race 20 x 1.5' Junior Frame GT Speed Series MK7 Junior Race Design 6061-T6 AL Alloy Formed and Butted Speed Metal Tubes Reverse Dropouts Euro BB 1' Integrated H/T Fork GT BMX Junior Race 6061 AL 1' Steerer 25.4x2.2mm Blades 312mm A/C 3/8' Dropouts Rear Shock Null Rims Speed Series Aero double wall 28h Spokes Stainless Steel 14g Pedals GT Mini Size Platform PP Material Crank GT Forged Alloy 2pc. 135mm Arms 24mm Hollow Alloy Spindle 36T AL CNC Chain Ring Alloy Chain Ring Bolts Bottom Bracket EB24 Sealed Bearings Chain KMC Z1 Narrow 3/32' Rear Cogs 14T Front Derailleur Null Rear Derailleur Null Shifters Null Handlebar GT Speed Alloy 4'H x 24'W 8Deg Back 2Deg Up Taper Cross Bar Grips GT Statement Stem GT Top Load Cold Forged 1' 40mm Brakes 1' Integrated Design 45X45 Degree Sealed Bearings Brake Levers Promax MV-87 85mm Cold Forged AL Arms Mini V-Type E-Bike Display Promax 2 Finger Lever w/ Reach Adjust E-Bike Battery Null E-Bike Charger Null E-Bike Drive Unit Null Saddle BOX Echelon Seatpost Alloy integrated w/ Saddle 22.2 x 135mm Speeds 1 Fork Travel Null Front Hub GT Speed Series Alloy CNC Body Sealed Bearings 28h 3/8' Female Allen Bolts w/ Alloy Washers Front Tire Kenda Kompact Pro Race 20 x 1-3/8' Rear Hub GT Speed Series Cassette Alloy CNC body 5 Sealed Bearings 3 pawl Cassette 28h 3/8' Female Allen Bolts w/ Alloy Washers Rear Tire Kenda Kompact Pro Race 20 x 1-1/8' Mini Frame GT Speed Series MK7 Junior Race Design 6061-T6 AL Alloy Formed and Butted Speed Metal Tubes Reverse Dropouts Euro BB 1' Integrated H/T Fork GT BMX Junior Race 6061 AL 1' Steerer 25.4x2.2mm Blades 312mm A/C 3/8' Dropouts Rear Shock Null Rims Speed Series Aero double wall 28h Spokes Stainless Steel 14g Pedals GT Mini Size Platform PP Material Crank GT Forged Alloy 2pc. 135mm Arms 24mm Hollow Alloy Spindle 36T AL CNC Chain Ring Alloy Chain Ring Bolts Bottom Bracket EB24 Sealed Bearings Chain KMC Z1 Narrow 3/32' Rear Cogs 14T Front Derailleur Null Rear Derailleur Null Shifters Null Handlebar GT Speed Alloy 2'H x 22'W 8Deg Back 2Deg Up Grips GT Statement Stem GT Top Load Cold Forged 1' 40mm Brakes 1' Integrated Design 45X45 Degree Sealed Bearings Brake Levers Promax MV-87 85mm Cold Forged AL Arms Mini V-Type E-Bike Display Promax 2 Finger Lever w/ Reach Adjust E-Bike Battery Null E-Bike Charger Null E-Bike Drive Unit Null Saddle BOX Echelon Seatpost Alloy integrated w/ Saddle 22.2 x 135mm Speeds 1 Fork Travel Null Front Hub GT Speed Series Alloy CNC Body Sealed Bearings 28h 3/8' Female Allen Bolts w/ Alloy Washers Front Tire Kenda Kompact Pro Race 20 x 1-1/8' Rear Hub GT Speed Series Cassette Alloy CNC body 5 Sealed Bearings 3 pawl Cassette 28h 3/8' Female Allen Bolts w/ Alloy Washers Rear Tire Kenda Kompact Pro Race 20 x 1-1/8' Micro Frame GT Speed Series MK7 Junior Race Design 6061-T6 AL Alloy Formed and Butted Speed Metal Tubes Reverse Dropouts Euro BB 1' Integrated H/T Fork GT BMX Junior Race 6061 AL 1' Steerer 25.4x2.2mm Blades 312mm A/C 3/8' Dropouts Rear Shock Null Rims Speed Series Aero double wall 28h Spokes Stainless Steel 14g Pedals GT Mini Size Platform PP Material Crank GT Forged Alloy 2pc. 127mm Arms 24mm Hollow Alloy Spindle 38T AL CNC Chain Ring Alloy Chain Ring Bolts Bottom Bracket EB24 Sealed Bearings Chain KMC Z1 Narrow 3/32' Rear Cogs 14T Front Derailleur Null Rear Derailleur Null Shifters Null Handlebar GT Speed Alloy 1'H x 20'W 8Deg Back 2Deg Up Grips GT Statement Stem GT Top Load Cold Forged 1' 40mm Brakes 1' Integrated Design 45X45 Degree Sealed Bearings Brake Levers Promax MV-87 85mm Cold Forged AL Arms Mini V-Type E-Bike Display Promax 2 Finger Lever w/ Reach Adjust E-Bike Battery Null E-Bike Charger Null E-Bike Drive Unit Null Saddle BOX Echelon Seatpost Alloy integrated w/ Saddle 22.2 x 135mm Speeds 1 Fork Travel Null Front Hub GT Speed Series Alloy CNC Body Sealed Bearings 28h 3/8' Female Allen Bolts w/ Alloy Washers Front Tire Kenda Kompact Pro Race 20 x 1-1/8' Rear Hub GT Speed Series Cassette Alloy CNC body 5 Sealed Bearings 3 pawl Cassette 28h 3/8' Female Allen Bolts w/ Alloy Washers Rear Tire Kenda Kompact Pro Race 20 x 1-1/8'
All product information is direct from Cycle Store. Merchant's category is Bicycles > BMX Bikes.
BMX Bikes: Whether you are hopping curbs outside of your house, pumping the track or sending it at the skate park, we have the BMX for you at Action Sports Club. Beginners can find their first BMX right here, with kid's specific bikes dropping the wheel size to allow the little shredders to tear around the skatepark without too much bike under them. Then there is of course the classic 20 inch BMX for teenagers and upwards that can take you from beginner to pro! Here at Action Sports Club we only stock the best brands in the BMX world.
Home
|
Contact Us
|
Become a Partner
|
Advertise
|
General T&Cs
|
Membership T&Cs
|
Privacy Policy
| Copyright © 1997-2020 Action Sports Club Limited.
Site by
// 4.638.3