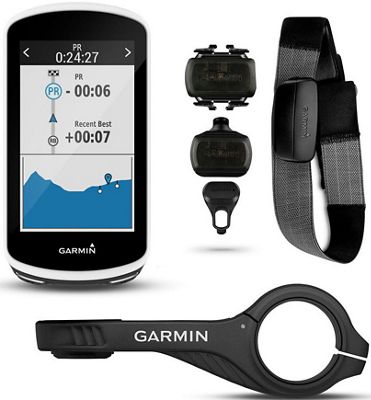 . The most exciting cycling computer to drop this year from the legends of GPS, premium technology, Garmin, plus with lots of brilliant extras in this fantastic bundle. The Edge 1030 Cycling Computer is packed full of a rich tapestry of new and improved tech features that are going to push your cycling experience and increase your cycling enjoyment Training Status. When you™re training for a big race, or just trying to up your cycling performance in general it™s important to monitor your training and recovery to help you keep track and know where improvements can be made. With the brand new Training Status feature the Edge 1030 automatically evaluates your recent exercise history and provides performance indicators. This lets you know if your current training is productive, when you™re peaking or overreaching. You can also track your exercise volume over the last 7 days so that you can compare the information to help you create an optimal range for your overall fitness Race Day. One of the key features of the Edge 1030 is that it allows you to specifically improve your race day performance. The device will show you how changes in weight, power and drag can affect your goal race time. The computer will guide you through a perfect power plan to get you ready for the race. You can gain even more features with the option of downloaded, on to the device, the Best Bike Race Sync App which will help you create unique plans ready for your actual race day Training Peaks. With the TrainingPeaks IQ App preloaded onto your Edge 1030 you can receive planned workouts automatically to your device by simply turning it on. The App will guide you through different workouts in real time with altering intensity targets and interval durations. You can then sync this information, via the App, on your smartphone or tablet to receive unique feedback on how your workout went Strava Live Segments. Every cyclist knows the importance of Strava Live Segments and the Edge 1030 comes in-built with the feature. This gives you a further huge selection of features and options to really improve and build on your performance. Your Edge 1030 will receive alerts when the segments start, finish, and allows you to compete against your own PR Mounting. The Garmin Edge 1030 comes with a new, better than ever, in-line mounting system. The mount securely attaches the 1030 in line with your handlebars, instead of above, to give you a clearer view of your computer while not distracting you from the action Connectivity. To keep you focused on your route with its new and improved connective options. Firstly you can send messages between your 1030 and other 1030 users. Secondly you can also stay connected to everyone in your phone book. The 1030 alerts you to missed calls, text messages and lets you respond instantly with prewritten messages. Your friends and family can also keep up with where you are with the LiveTrack App Garmin Cycle Map. Garmin have integrated all their GPS know-how into the Edge 1030 with the built-in Garmin Cycle Map that allows you to guide your bike anywhere and everywhere. The mode allows you to receive turn by turn navigation and alerts to things such as upcoming sharp turns. You can also receive information, while on the go, about your elevation and points of interest on your journey Includes. Edge 1030 Cycling ComputerPremium heart rate monitorCadence sensorSpeed sensorMounts (standard and extended out-front)USB cableTetherDocumentationFeatures. 20 hours of battery lifePreloaded with Garmin Cycle MapTurn by turn directionsRider to rider messagingFeaturing Strava Live SegmentsTrending popularity gives you the most popular routesComprehensive navigationPerformance and awareness features3.5 display screenBuy Garmin Cycling Computers from Chain Reaction Cycles, the World™s Largest Online Bike Store.
All product information is direct from Chain Reaction Cycles. Merchant's category is Accessories > Computers.
Bike Accessories: Accessories are what turn any bike into your bike! So whether you are trying to increase your bike's performance, versatility, safety or just plain style, then Action Sports Club has what you need to make that bike perfect for you. For that performance boost either on or off the road, invest in a cycle computer to measure your speed and power, or grab a GPS to create those perfect laps or take you on new far flung adventures. Good lighting is a must have for any bike, so keep yourself safe with our many light and reflector solutions. Make your bike extra versatile and beautiful with baskets, pannier racks or even a trailer for the kids or for luggage. Then don't forget to keep it all safe with a bike lock that can stand up to thieves and protect your pride and joy!
Popular Post Today
Created by
neilos02
1 year 22 weeks ago
Home
|
Contact Us
|
Become a Partner
|
Advertise
|
General T&Cs
|
Membership T&Cs
|
Privacy Policy
| Copyright © 1997-2019 Action Sports Club Limited.
Site by
// 4.638.3