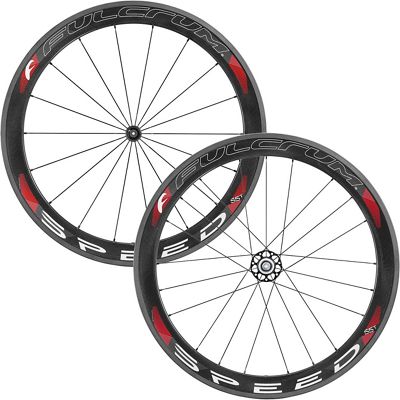 | | |
| --- | --- |
| Was | £2,299.99 |
| Now | £1,559.99 (32% off) |
Fulcrum SPEED 55T Carbon Tubular Road Wheelset. The SPEED 55T Carbon Tubular Road Wheelset is an exceptional performing, high-end wheelset that maximises speed, slices through the air, provides superb stability and sits at the pinnacle of competitive wheels made by Fulcrum. Featuring fantastic aerodynamic performance and is very stiff and strong while keeping the weight down thanks to the full carbon rim and hub shell. This wheel offers unmatched performance in this price range and outperforms many that are priced higher Features: Material: Rims: Carbon; Braking Surface: 3K carbon fibre; Hubs: Carbon w/ Aluminium flanges; Spokes: Stainless Steel; Bearings: Ceramic Rim Height: 55mm Rim Width: 24 2mm Tyre Type: Tubular Braking System: Caliper brakes Braking Surface: AC3 treatment Axle Compatibility: QR Spoke Count: Front: 18; Rear: 21 Bearings: CULT Freewheel: 11-Speed, Plasma treated HG freewheel Weight: 1.28kgTechnologies: Unrilled Rim Bed: Featuring no holes on the central section of the rim means that the rim is uniform at every point, free from critical areas subject to stress. The advantages are immediately clear: less weight, longer lasting rims, greater resistance to fatigue, the possibility of giving the spokes more tension and more stiffness which, in terms of performance, means improved responsiveness and acceleration. Rim Full Carbon: This technology was developed by Fulcrum and is the combination of different types of carbon fibre, including unidirectional and the famous 90° 3K found on wheel models at the top of the Fulcrum range. Fulcrum developed a special HTC (high transition grade) resin, which has a glass transition point at a higher temperature than any other carbon fibre used within the bicycle industry. This provides exceptional stiffness, durability and braking performance. Cult (Ceramic Ultimate Level Technology): Using high-end ceramic balls, which perform continually thanks to the absence of lubricating grease and the precise machining of the cup and cone technology, the friction is reduced drastically and in turn increases the smoothness of triathlon and road bike wheels by as much as 9 times compared to standard bearings. Directionated Rim-Spoke Coupling: An exclusive rim/spoke mounting system. It allows the rim, spokes, hub and nipples to align perfectly, guaranteeing the precise spoke tension in all areas around the wheel. Anti-Rotation System: This system locks the spoke in place once the correct tension is achieved. Engineers at Fulcrum have designed this system to ensure the spokes never lose their initial tension and to remain in the position that has been proven to provide the perfect aerodynamic properties. Plasma Freehub: The freehub body has been Plasma treated, which makes the aluminium especially hard and resistant to surface abrasion and wear. This means the thickness of materials used can be to be reduced to a minimum, achieving a lighter weight, while maintaining lifespan and reliability. 2:1 Two-To-One: Every push on the pedals from the rider will force most of that energy on the drive side of the rear wheel. To combat this loss of rim tension and power transfer, Fulcrum has solved this cycling problem with their 2:1 spoke ratio pattern by doubling the spoke count in crucial zones on the wheel. AC3 - All Conditions Carbon Control: AC3 enables surprising braking performance, which is very noticeable in difficult weather conditions. Rather than using the traditional machined brake track approach, Fulcrum uses micro laser incisions on the brake track surface to remove resins and create a smooth surface. Lab tests have shown that this process improves braking power by an improvement of 6%. However, in the wet this performance increase jumps to 43%. Bringing braking in the wet closer to the performance experienced when riding in dry conditions Buy Fulcrum Wheels & Tyres from Chain Reaction Cycles, the World's Largest Online Bike Store.
All product information is direct from Chain Reaction Cycles. Merchant's category is Wheels & Tyres > Wheels.
Wheels/Tyres/Tubes: Whether you are eating up the tarmac, tackling the trails or sending it at the skatepark a quality wheels are a must have for any bike. With wheels, as well as tyres and inner-tubes for every style and budget, you can make sure your ride is rolling right. We have all the wheel necessities for road, hybrid, BMX, mountain and touring bikes, so if your building your new bike or maintaining your current steed, you are in the right place here at Action Sport Club.
Home
|
Contact Us
|
Become a Partner
|
Advertise
|
General T&Cs
|
Membership T&Cs
|
Privacy Policy
| Copyright © 1997-2019 Action Sports Club Limited.
Site by
// 4.638.3