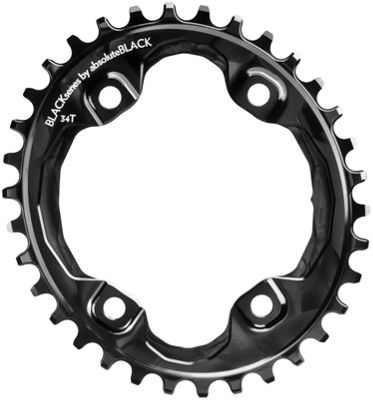 . Oval chainrings work because the rider does not produce power evenly through the pedal stroke. Oval chainrings maximise the part of the stroke where power is produced and minimise resistance where it isn't. With this BLACK by Absoluteblack Narrow Wide Oval XT M8000 Chainring you will actually feel your stroke to be more efficient and effective Features: Material: 7075 Txxx AluminumArm x BCD: 4x96mmOval chainrings help the rider spin smoother, gain a lot more traction in terrain and are easier on legs while climbing32T is equivalent to 30T at dead spot and 34T at the power zone34T is equivalent to 32T at dead spot and 36T at the power zoneState of the art Narrow Wide tooth profile keeps the chain snug, allowing you to leave the chain guide behindDesigned in UK, manufactured in PolandLong-lasting constructionBurly enough for downhill racers and dirt jumpersCompatibility: 1x9-/10-/11-/12-Speed (Eagle compatible) or Singlespeed setupsNote: Chainring is not threaded but chainline is corrected to 49mm with use of built in spacersWeight: 46g (32T); 49g (34T)Choosing Correct Size: . 32T oval is best for someone currently riding 30T or 32T round chainring 34T oval is best for someone currently riding 34T or 36T round chainringHow to Mount Absoluteblack Oval Chainring: There is a small mark (triangle shaped) on the inner circumference of the chainring. This mark must sit behind the crank arm BLACKseries is a sister company of absoluteBLACK Ltd. It was formed from a desire to offer a different perspective of absoluteBLACK™s state of the art products. BLACKseries is sold exclusively by Chain Reaction Cycles BLACKseries products use the same raw materials, manufacturing techniques, quality control and teeth profiling as absoluteBLACK. Difference is in the overall design. œWe were able to create more industrial looking products that save considerable amount of CNC machining time, which lead to savings we can pass on to our customers
All product information is direct from Chain Reaction Cycles. Merchant's category is Components > Chainrings.
MTB Components: Whether you are repairing, upgrading or building a bike from scratch, we have all the components you need for your Mountain Bike. Upgrade you drivetrain, grab new handlebars, add fresh pedals and handlebar grips to keep you cemented to that ride, or choose a comfy or lightweight saddle to match your riding style. And don't forget those brakes to give you the stopping power you need. So no matter which part of your mountain bike you are upgrading, from a new suspension set-up to the smallest bolt, Action Sports Club has you covered.
Home
|
Contact Us
|
Become a Partner
|
Advertise
|
General T&Cs
|
Membership T&Cs
|
Privacy Policy
| Copyright © 1997-2019 Action Sports Club Limited.
Site by
// 4.638.3